Richard Fox's Homemade Beer Battered Fish Finger Club Sarnie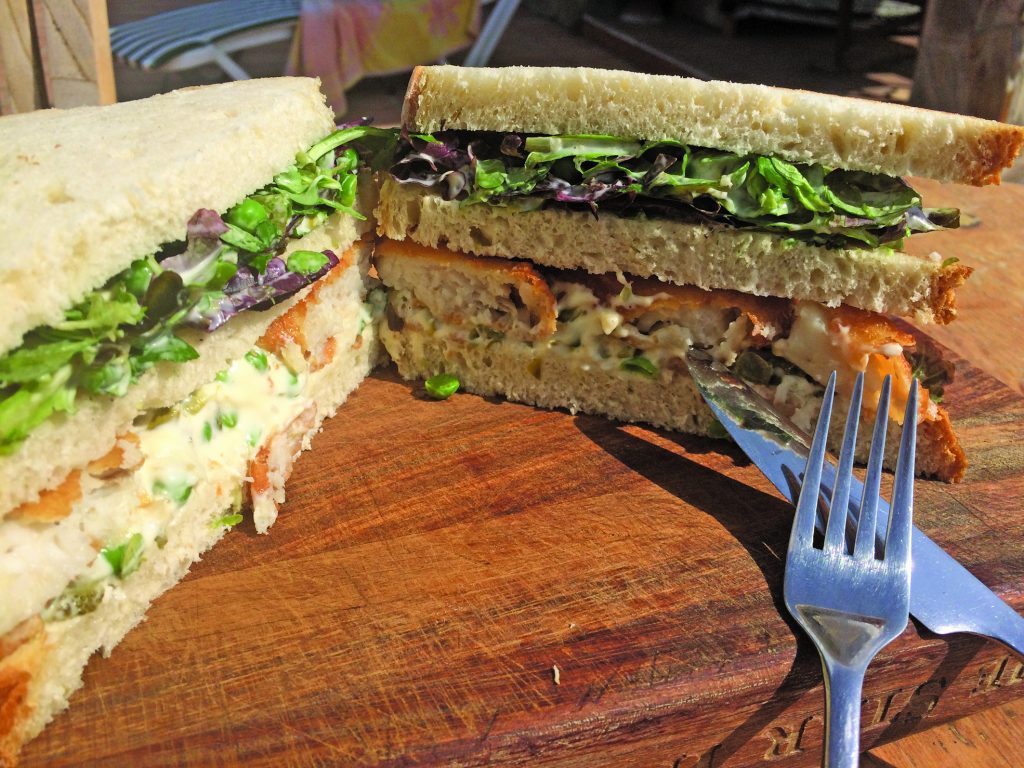 Make 1 club sarnie
2 tbsp mayonnaise
2 tsp capers, chopped
2 tsp cornichons (baby gherkins), finely chopped
1 tsp lemon juice
2 tsp parsley, chopped
30g frozen peas
225g thick white fish fillets such as cod or Pollack, skin removed
35g cornflour
100g plain flour, plus a little more for dusting the fish
160ml good British ale
1 tbsp white wine vinegar
Salt to taste
Handful of mixed watercress, spinach and rocket
3 slices of quality white bread, thick cut
Combine the mayonnaise, capers, cornichons, lemon juice and parsley in a bowl and combine well. Put the frozen peas in a heatproof bowl, pour over boiling water. Leave for two minutes, then drain and refresh under cold running water. Drain well and add to the mayonnaise. Cover and refrigerate until required.
Make the batter; sift the cornflour, 100-g of plain flour and salt into a bowl. Make a well in the centre and stir in half the beer. Whisk to a smooth batter, gradually adding the remainder of the beer and the vinegar. Cut the fish into three equal size 'fingers'.
Pre-heat a deep fat fryer to 190°C. Lightly coat the fish in the extra plain flour, dusting off an excess. Dip the dusted fish into the batter and then carefully lower into the hot oil. Cook for 3-4 minutes until golden brown and crispy. Remove with a metal slotted spoon and drain on absorbent kitchen paper.
Coat one slice of bread with a little of the mayo and pea mixture. Lay the fish fingers on this slice of bread. Top with another slice. Combine the salad leaves with the rest of the mayo and pea mixture and arrange over the second slice of bread. Top with third slice and cut in half to serve.