Nelson pulls together to make second annual food festival a tasty day out!
Nelson shops, food businesses and local organisations are all in the mix to make sure the second annual Nelson Food & Drink Festival on Saturday 17 September is a success.
Following on from last year's successful event, which brought around 8,000 visitors into Nelson, the organisers of Nelson Food & Drink Festival are hoping local people will flock into the town centre to try out the international flavours on offer. And with the support of Pendle Council, Nelson Town Council, Pendle Rise Shopping Centre and Oddie's Bakery, they've got the perfect recipe for a fun, foodie family day out.
Sponsors Pendle Rise shopping centre and Oddie's bakery are lending their support too. Oddie's is sponsoring a children's cupcake decorating competition which proved very popular with younger food festival visitors last year. Catering students from Nelson & Colne College will be on hand to help out with the little ones' cake creations. The best one will win a sweet hamper prize, donated by Oddie's Bakery.
Pendle Rise shopping centre is the sponsor of a children's recipe competition. Budding young chefs are challenged to create a delicious dish from their favourite ingredients and draw a picture of it. Entries must be handed in at the Wilko store by 11 September to be judged in advance of the Food & Drink Festival.
Over 50 food stalls around The Shuttle sculpture are the right ingredients to bring worldwide flavours to the heart of Nelson town centre. Stacked with tasty and aromatic treats ranging from traditional Lancashire favourites to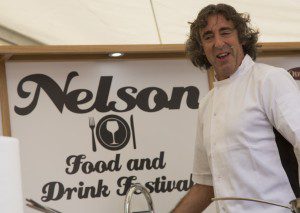 Asian delicacies, they promise to be a treat for the senses, not least the tastebuds!
A series of live cookery demonstrations will be hosted by celebrity chef Richard Fox, best known for starring in ITV's 'Men Brewing Badly' alongside actor Neil Morrissey. As well as cooking his own signature dishes – including Moroccan lamb skewers with jewelled couscous – Richard will compere events in the live demo kitchen throughout the day.
Food activist Gill Watson, a well known figure in Pendle and beyond, will give a talk on reducing food waste, always an engaging and thought-provoking topic. And chef Grant Smallridge, from the event's restaurant partner The Whitakers Arms in Accrington, will also give a cookery demonstration too.
The Worshipful The Mayor of Pendle Councillor Rosemary Carroll said:
"Last year we were blessed with a warm and dry summer's day and we're hoping for a similar forecast for this year's Nelson Food & Drink Festival. Events such as this are a great way to get people into our town centres and show them all that we have to offer.
"We're expecting between eight and ten thousand people at this year's event and, with all the foods stalls to look forward to, we feel confident that no one will go home hungry!"
Other attractions at Nelson Food & Drink Festival include bhangra dancing from the Punjabi Roots Academy, free face painting and henna art.
A vintage double-decker bus is available to take foodies to the event for free. Two routes are running: one from Barnoldswick through Foulridge and Colne, the other from Burnley bus station through Brierfield. For full details of bus times to help you arrive in style, visit www.nelsonfoodfestival.co.uk.
Nelson Food & Drink Festival takes place in Nelson town centre from 10am to 4pm on Saturday 17 September. Find full details, including a downloadable brochure with the festival itinerary, at www.nelsonfoodfestival.co.uk.
Keep up to date with news about food stalls and attractions on the Nelson Food Festival Facebook page and follow @nelsonfoodfest on Twitter.
Missed last year's event? Watch a short video of the 2015 Nelson Food & Drink Festival to whet your appetite for this year's event.