Mayor can't wait to tuck into food festival!
Pendle's Mayor is urging everyone to come along to the first ever Nelson Food and Drink Festival this Saturday, September 19th.
The free festival takes place in the town centre from 10am to 4pm, with a Worldwide Food Market serving up flavours to tantalise your taste buds and a host of other attractions including live cookery demonstrations with celebrity chef Richard Fox.
Pendle's Mayor, Coun. Nawaz Ahmed, will officially open the festival at 10am next to The Shuttle monument, right in the town centre.
"This is a first for Nelson and it promises to be a very enjoyable event, with lots to see, to do and to taste," said Coun. Ahmed.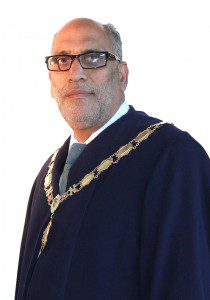 "I want everyone to come along and enjoy a taste of it for themselves. Events like this are a great way to bring the community together and I'm very much looking forward to it."
More than 20,000 brochures outlining the day's events and attractions have been delivered to local homes in the run-up to the festival, with copies also downloadable from a dedicated website at www.nelsonfoodfestival.co.uk
More than 20 stalls in the Worldwide Food Market will offer everything from cupcakes and milkshakes to pizza, pancakes, pies and pastries. Showcasing some of the area's finest food producers and retailers, the market will also include meats, Asian and Indian delicacies, locally baked breads and cakes, olives, ice cream, speciality coffees and sweets.
A "cookery theatre" set up next to The Shuttle will host a series of live cookery demonstrations with celebrity chef Richard Fox, plus experts from festival sponsors Nelson and Colne College and local restaurant Spice of India. There will also be a talk from local chef, writer and food activist Gill Watson on her work to cut food waste and promote nutritious healthy meals for everyone, whatever their budget.
Free facepainting and henna art will be available from 11am to 3pm in the Pendle Rise shopping centre, which also hosts a "Cakelicious" children's cake decorating competition from 11am to 2pm. There will be street entertainers and children's rides and, at 12-30pm, an exciting dance and music performance from the Punjab Roots Academy.
People can even travel to the festival for free aboard a classic Leyland double-decker bus, running on two routes to pick people up between Barnoldswick, Colne and Nelson or Burnley, Brierfield and Nelson. For timings, pick-up points and to book your free seats, visit www.nelsonfoodfestival.co.uk/free-buses
The festival is the culmination of a four-month project commissioned by Nelson Town Team to promote Nelson's wide range of independent shops and businesses. For more information and to watch short videos about the participating businesses, visit www.facebook.com/nelsonshops, follow www.twitter.com/nelson_portas or search 'Nelson Shops & Events' on YouTube.